Spring outfit 2021- my favorite casual spring look I Styleseven
It is again Styleseven time on the fashion blog! The 7 bloggers of Styleseven show you once a month their individual style – this time on the theme of spring outfit. Today you can find on my fashion blog my favorite spring look with all outfit details and product links for shopping. With spring in full swing and April weather at its best, I've opted for a look that's cozy, casual and perfect for the transitional season.
My casual spring outfit for 2021
What could be better than being dressed up in just 5 minutes in the morning?. My favorite spring outfit is a casual look with basic parts that I prefer to wear. A basic white shirt, casual denim jeans and one of my favorite cardigans. In addition Running Sneaker, around this Sneaker – Trend one comes at the moment simply not around. The shoes are ultra comfy and I love to wear them for a walk with my little dog lady.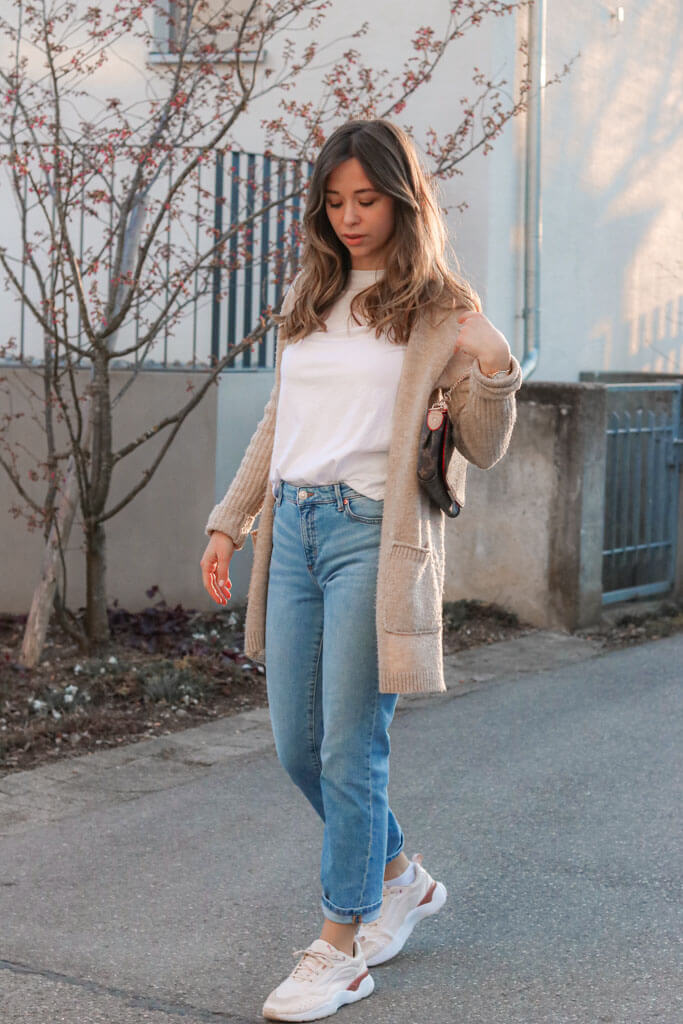 The best thing about a casual look with basics, you can refresh the look with accessories. Especially in spring, hair accessories, cool sunglasses and co. especially great highlights. For this spring look I chose my new handbag, because the look should be simple and cozy.
My favorite basic pieces and tips for minimalism in the closet
Minimalism has been a big thing for years and this trend also makes itself felt in the closet. With me rather creeping, I have now noticed that I am more and more on quality instead of quantity and invest more time in the search for great basics. Some time ago I have already shown you a post on capsule wardrobe and how you can combine many outfits with a few pieces. Especially in spring this works very well, because by layering you can combine several looks and change only 1-2 pieces of clothing or accessories. If you want to know which pieces are part of my basics and how I style them, check it out here: