What to wear today? December '18 Holiday Edition
Today there is the second part of my post series "What do I wear today?"! Last time there were 3 great fall/winter outfits as inspiration. This time we start the series with outfits suitable for all the upcoming festivities in December. Be it for the company Christmas party, family dinner or New Year's Eve party. With these outfits you are ready for beautiful hours with your loved ones.
Leather pants, lace top with golden details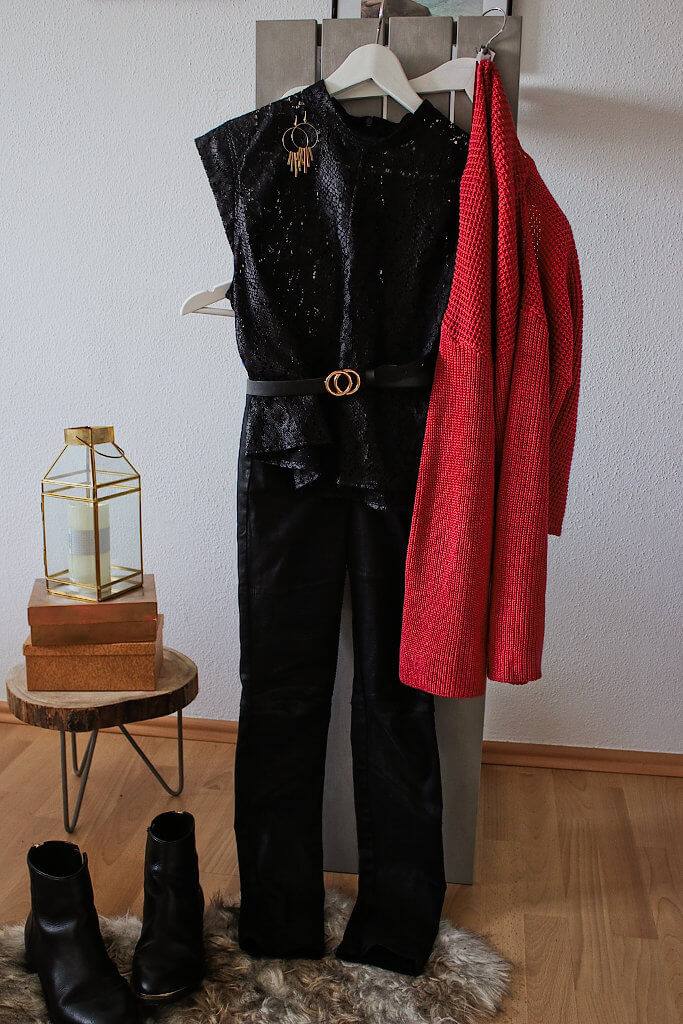 For the first outfit we go for a simple look in black with a few golden details. The highlight of the outfit is definitely the cardigan in raspberry red. This look makes me think of Christmas of the company or even one New Year's Eve party. Just for such occasions, overalls with lace are a great choice. I have been looking for a very long time for a great Jumpsuit with lace in black that fits well because you can combine it so versatile. Since I haven't found one yet, I had to come up with an alternative and for this outfit I chose a combination of pants and lace shirt in leather look.
Wanted and Found- Baroque blouse and leather skirt, contrasts that we love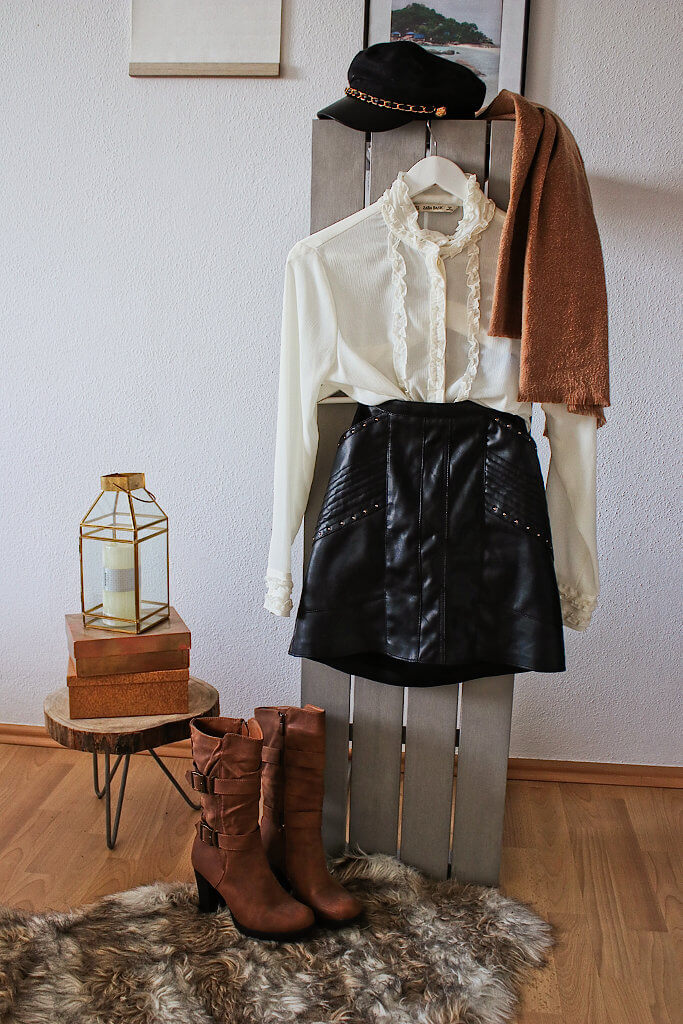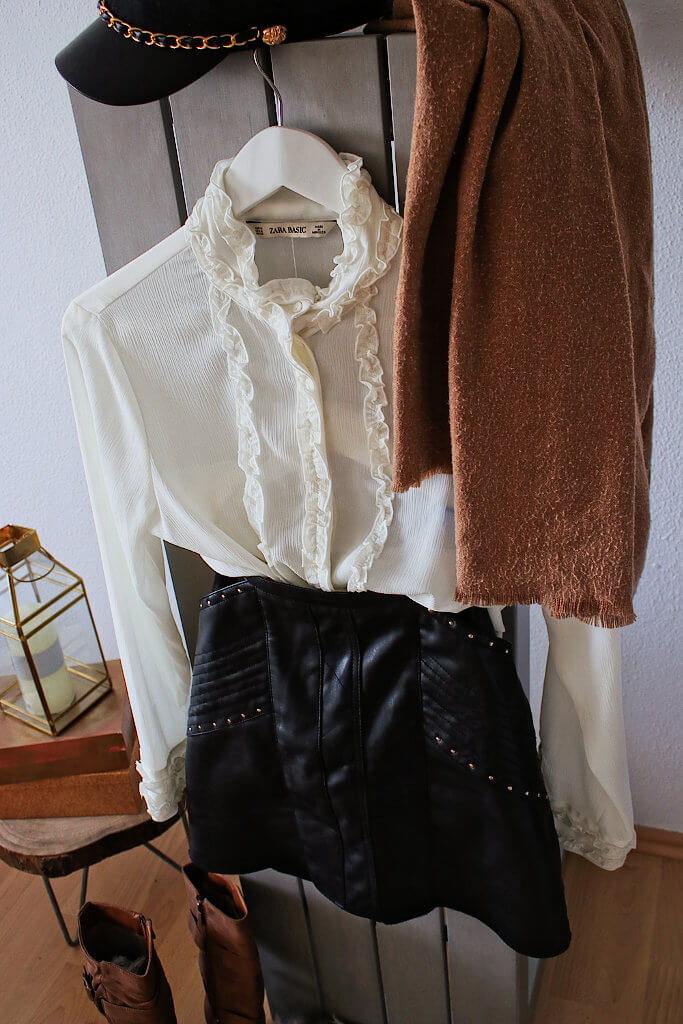 Contrasts make the look simply more exciting and stylish. That's why I combine with this outfit a rocking Leather skirt With a high necked Baroque style blouse. The squiggly lace on the sleeves and along the placket make the look more festive. I can imagine this outfit with a Family dinner present or to the Company party. I would wear warm boots, a scarf and a thick jacket with it.
Golden Star in the middle of the night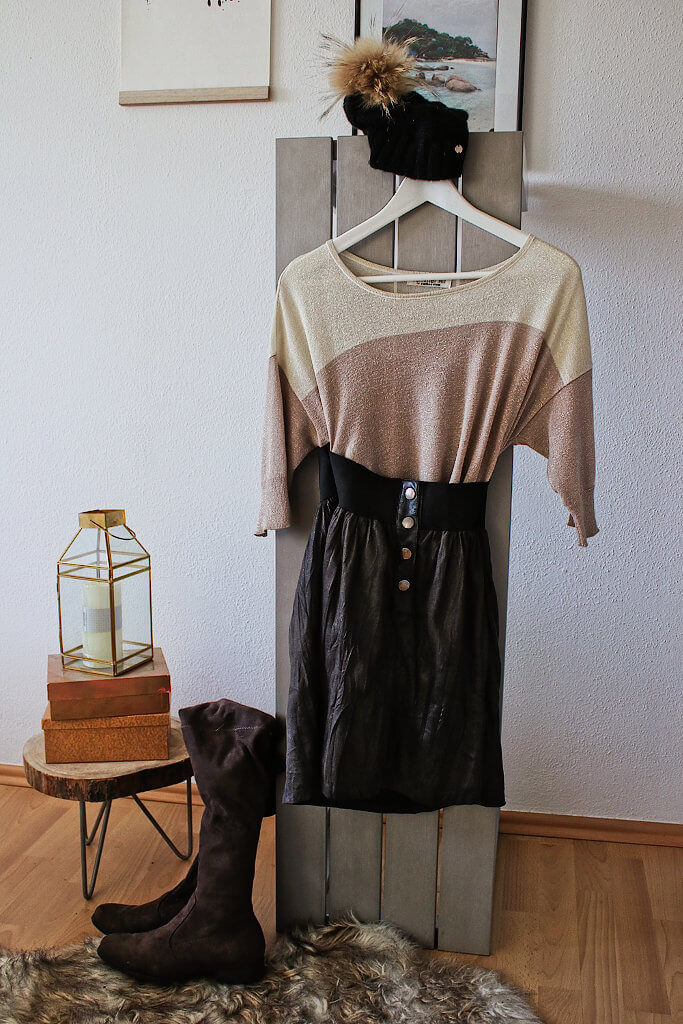 For the last outfit, you can look at the New Year's Eve party Sparkle with the flares. A big trend on New Year's Eve, outfit-wise, is sequins and glitter. Because less is more but with glitter it looks better! The sparkle spreads good mood and when do you have the chance to wear glitter pants or an allover sequin shirt in everyday life! Very important again for an outfit with skirt- overknee boots and many layers of clothes are a must. After all, you don't want to catch a cold after the Silverster party and start sick into the new year. Besides, you don't have to shiver while watching the fireworks. If the possibility exists, simply take a pair of trousers with you and change shortly before the fireworks display.
Which of the three looks do you like best? What will you wear on Christmas or New Year's Eve?