Cardigans & cardigans you need this spring 2020!
Chic in knitwear – cardigans and cardigans experience their big revival in 2020. Especially cardigans are absolutely on trend and in spring / summer 2020 we love to wear a short cardigan with big buttons. The fashion trend has already been used for a long time, but for this spring a few special features are added and cardigans / cardigans are combined in a new way. I have chosen for today's fashion post 3 cardigan styles that I want to present to you and for each there are lots of styling tips!
Styling tips for your outfit with cardigan
1. How to combine a short cardigan with buttons?
The short cardigan can be combined versatile in everyday life. So you can wear the cardigan very simple as a sweater and combine a casual jeans to it. With a cardigan with big buttons you are this spring & Summer 2020 fully in trend. If the cardigan seemed for a long time closed and restrained, almost boring, this summer comes more freedom to it. Because the cardigan is thrown loosely around the shoulder in 2020, so that one shoulder peeks out. Just leave the top 1-2 buttons open for it. Underneath you wear a top with narrow straps, lace tops look especially good with it. In search of beautiful cardigans and cardigans I found at ORSAY and was able to put together this outfit!
2. How to style a long cardigan?
Long cardigans and cardigans are a little more difficult to combine than short cardigans. Often the outfit looks too boring, but a long cardigan has its advantages. In the top-pants combination in one shade, a long cardigan can visually cheat a little larger. For the office we wear the long cardigan with a shirt or blouse underneath and roll up the sleeves over the cardigan. High-waist jeans always go well with it and very important – always wear the cardigan open! Which jeans you can combine with it in 2020, I have already shown you on the blog – Jeans Trends!
In spring 2020, the combination of a long cardigan and silk camisole is an outfit that is high on designers' radar. There's also a lot of play with flounce, ruffles, fringe and buttons, which means there's a fav style for everyone. ORSAY also has some playful styles to offer to go with it!
3. Twin Set – How to combine the cardigan a la Katie Holmes?
Katie Holmes has laid the foundation for the big cardigan trend for spring / summer 2020. She was seen in an outfit with cardigan twin set, so a short cardigan combined with a crop top made of the same knit material. So the interest of designers in cardigans rose again and the trend to wear the cardigan off- shoulder. How to combine? Very simple – get matching set, pull down one side so that the shoulder is free and simple pants or jeans to go with it.
My outfit with short cardigan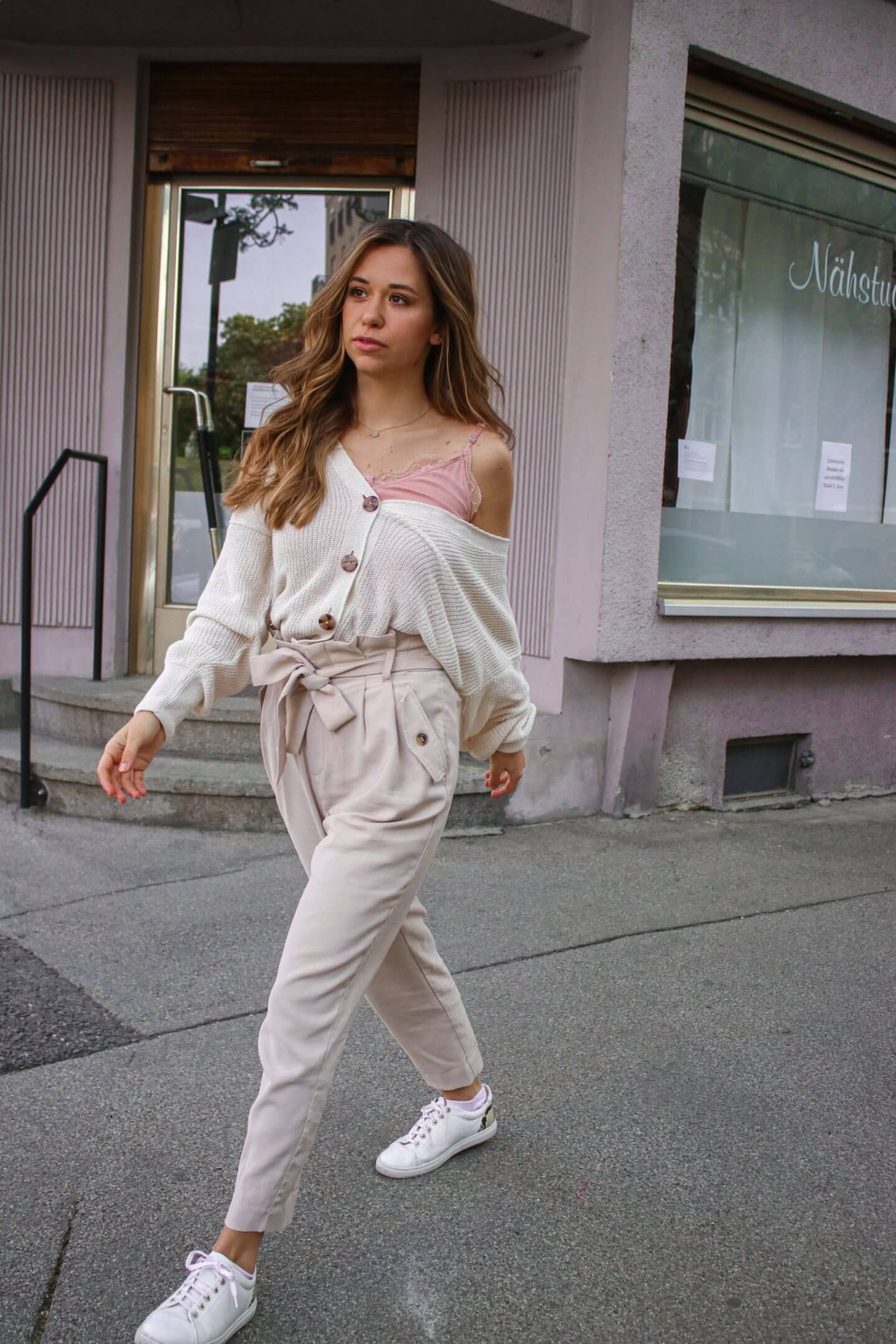 What do you think of the cardigan trend for spring / summer 2020? Which cardigan do you prefer to wear??