5 clothes you should invest in this fall
Autumn is just around the corner & the new fall clothes are once again a dream! As far as fashion and fashion is concerned, autumn is my favorite season, because I love to wear natural tones and in autumn the stores offer a wide range of clothes in neutral colors. Even though some trends await us in the fall of 2020, today I'm going to introduce you to 5 pieces of clothing or basics that you can pack out anew every fall and use to style many different styles and outfits for different occasions. My 5 personal favorite pieces for fall are now available on the fashionblog.
White shirt or blouse
The first item of clothing is a white shirt or blouse of high quality material. The shirt can be worn under the sweater and makes a nice office outfit or separately with a cardigan or a coat over it. Why a white shirt is a must in your closet this year? With a shirt you always look chic and depending on what you combine it with, it can be worn for just about any occasion. Whether with a maxi skirt to the wedding, with a blazer / cardigan to the office or loose-fitting with distressed jeans. Also in summer a white shirt is suitable as a light throw and knotted with a dress you also create a stylish look. Versatile and chic, that's why you should invest in this garment. Materials like silk, cotton or linen are the best choice and price-wise there are some great value options.
Coat with button placket
A good coat not only keeps you warm but looks chic as well. Coats with button placket are one of the most popular garments in the fall – a real classic. To counteract the sometimes dull weather of autumn, many rely on coats in bright colors. But if you want to invest in a coat that will last you a long time, I would recommend a coat in brown, beige, blue or a plaid coat. Too bright colors are quickly fed up and then just store in the closet. These models are classics that never go out of fashion.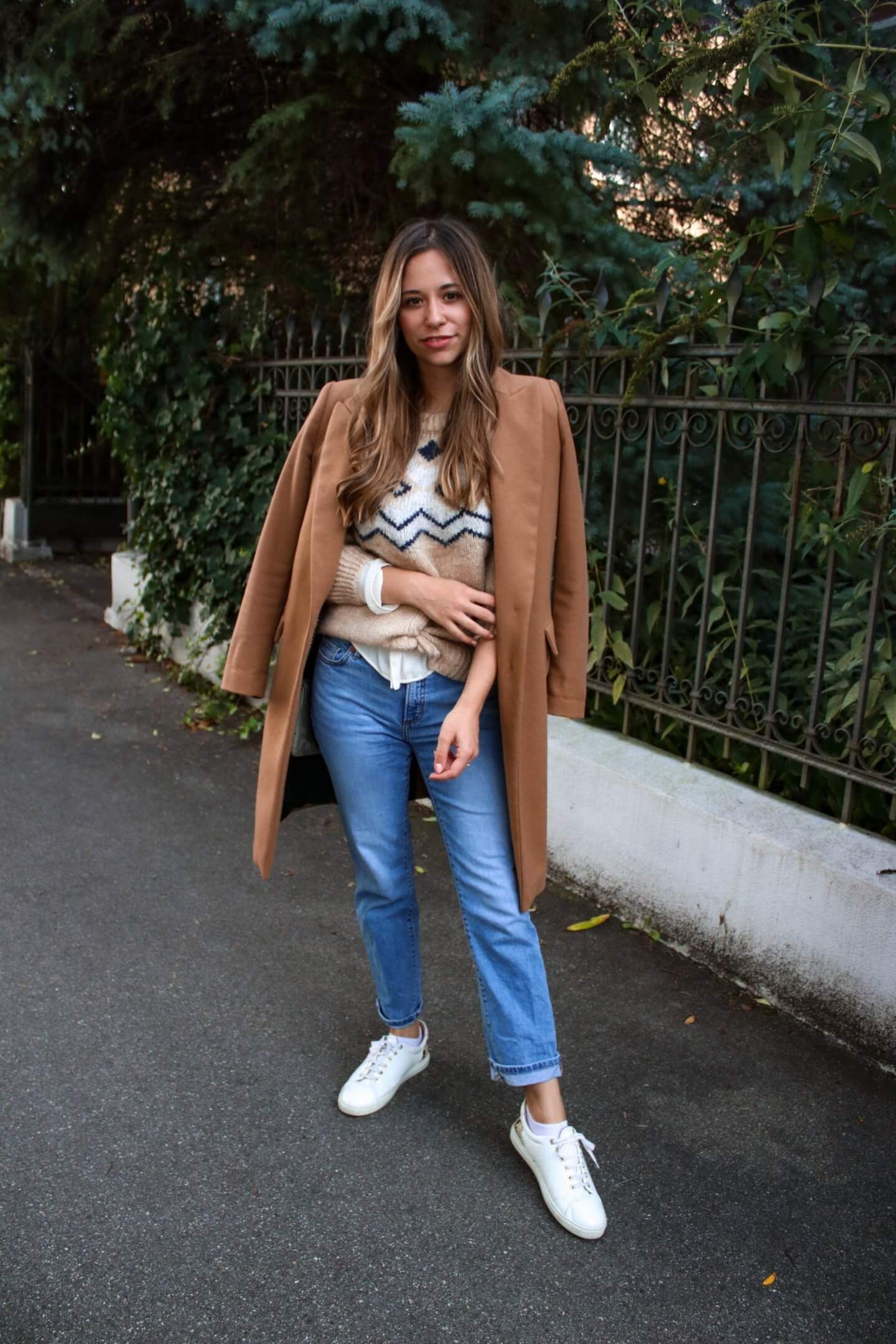 A well fitting jeans
A perfectly fitting pair of jeans, that's what every woman wants and if you've found a pair that fits, that's great! If you're still looking, try on different styles and models until you find the perfect fit. Because nothing is more annoying than a pair of pinching, too tight jeans. If you want to be always up to date, this year you should keep your hands off skinny jeans and try jeans with wide legs, such as flared jeans or Marlene pants.
A cozy sweater
Sweater Weather- a cozy sweater is a must for fall. So that you have something of your new garment for a long time, you should invest in good quality on the one hand and on the other hand care for your sweater well. Hand wash is best for your cuddly sweater, how to care for it best I have told you here and a great tip I still have. If you have a piece of clothing that's starting to fuzz, this Amazon discovered and instantly fell in love with works for furniture and other fabrics, too.
Autumn dress floral print
An autumn dress you can combine versatile, do you need a few examples? In this outfit of the day I wore a sweater over my dress with floral print and made a skirt out of the dress. The dress can be worn alone and a nice combination is a nice coat to go with it, in the case of my floral dress, pairing it with a brown knee length coat could make a super outfit for a festive occasion. Dress down- You can also make the fall dress suitable for everyday wear with sneakers and a long cardigan. Versatile and in many colorful designs, here are the most beautiful autumn dresses.