Trend color 2020 – Classic Blue my ass, this is the true trend color for this year!
Pantone announces for each year and for all four seasons the respective trend colors. In 2019, for example, it was the color Living Coral. 2020 is the trend color Classic Blue. But if you look at the 2020 fashion designs, another color is right at the forefront, namely green. Yet the color palette of greens is so diverse, from lemon green to forest green. This year also 2-3 pieces of clothing in beautiful forest green have made it into my closet and how I combine the fashion color I show you today in my autumnal outfit.
The most beautiful garments in the trend color 2020
Green is increasingly shaping up to be the trend color in 2020, and fashion designers are also delivering many garments in this fashion color in the fall of 2020. Especially popular are cozy quilted jackets in green, cardigans, faux leather pants, but also our summer pieces in green, we may combine in the fall with warm knitwear. These are the most beautiful garments in green:
Tone on tone – green cardigan and ruffle top
With my look I have decided for a tone in tone combination. Here I wear to the green ruffle top a cardigan in the trend color 2020. The cardigan keeps you warm while being super comfortable and stylish. By the way, you can find it here at Vero Moda and the top is from ONLY. The tone-on-tone combo works very well in this case, because it's exactly the same shade, both materials are stretch and so you can wear the look also off-the-shoulder.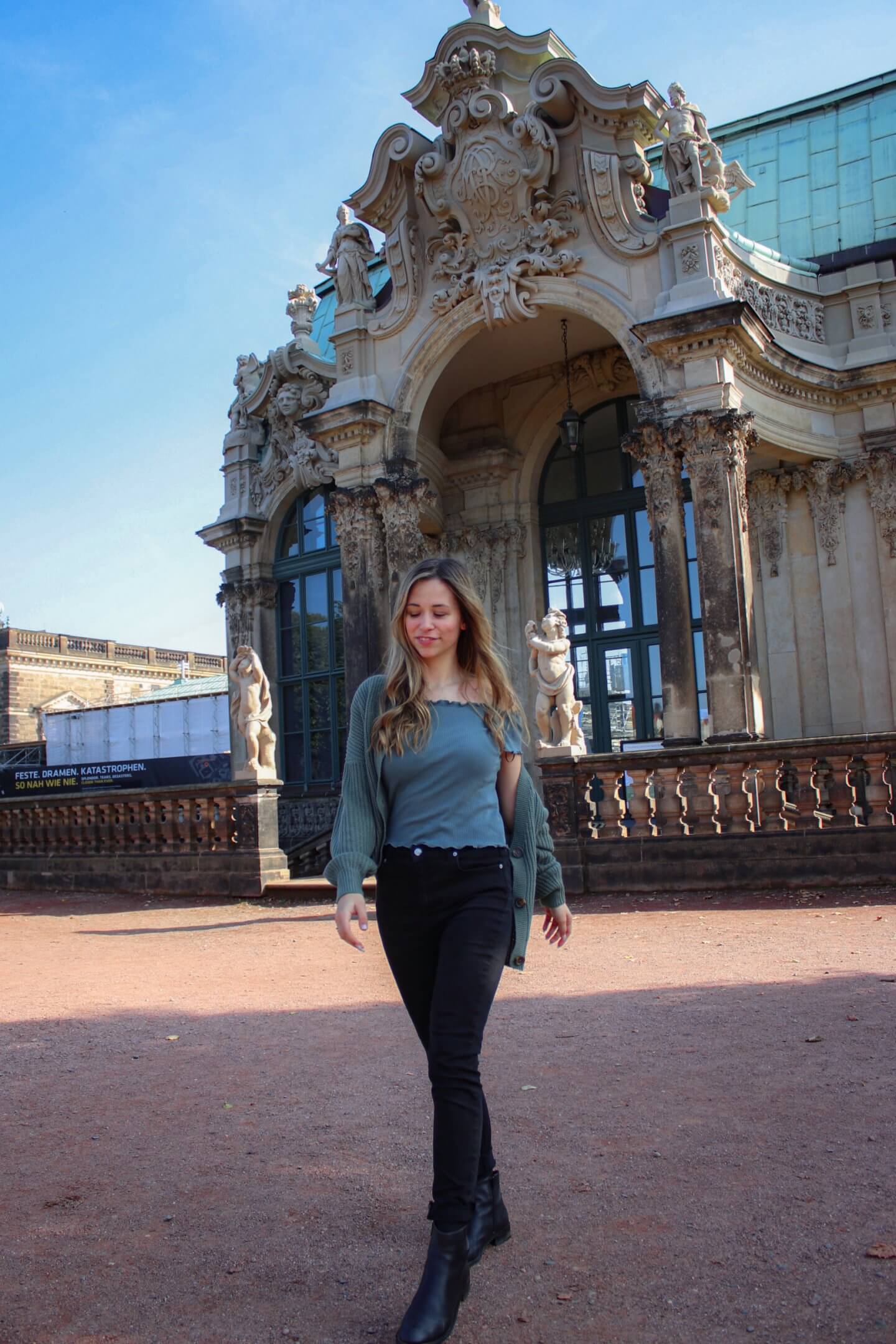 These colors go best with green
Very classic black and white can be combined with green. In my outfit I chose a black skinny jeans, even cooler would have been leather pants. But since we made a city trip to Dresden and I could only pack a little, the jeans did it too. By the way, I show you the most beautiful sights of Dresden in this post – Dresden's most beautiful photo locations. Back to the outfit and what colors go with the trend color 2020, jeans and blue tones are not so easy to combine. If you want to be on the safe side try it with a tone-on-tone combination, brown and in the fall especially beautiful to green fit clothes in beige and cream colors.
How do you like my look in green fashion pieces and how would you combine the trend color 2020?