Basic outfits – this is how we style you and these basic must-haves you need in your closet!
Spring is just around the corner and the beautiful weather draws us outside. My favorite basic outfit at the moment consists of a few basic must-haves from my closet. Among other things, a basic sweatshirt that I often combined in my home office outfits. Basic parts can be versatile among themselves style, but also combine with the current fashion trends and everyone needs them in his closet. The trend has long been toward minimalist closet and simple outfits. These fashion must-haves you need in your wardrobe to style lots of basic outfits and lots of styling tips are waiting for you!
Shopping tips for fashion must haves
Before I show you my basic outfit and the basic must-haves that everyone needs in their closet, here are a few shopping tips. When it comes to basics, there are a few things to keep in mind. You should have something from the basic pieces for a long time, so here the quality has priority. Rather you invest a little more and have longer something of your favorite part, because it should be worn often and serve for different outfits – more shopping tips here and the best fashion online stores.
The most important Basic Must-Haves
Basic White Shirt
A basic white shirt you can wear under all cardigans, blazers, and denim jackets. It's versatile to combine and for a stylish outfit you can also wear a dress over a t-shirt. Knot it and you have a perfect crop top to wear it z.B. To style a basic look with a skirt. These white shirts I have in my closet:
Blue Jeans
A perfect fitting pair of blue jeans every woman should have in her closet – for a basic outfit, jeans with a light wash are perfect. A few of my favorite jeans must – haves I have saved for you in this collage:
Basic Hoodie
A basic hoodie or sweatshirt is perfect for a casual basic outfit and you should always have one in your closet. If you want to bring some variety into your outfit, then tuck your hoodie under a bralette or bra and make it cropped. A mega cool outfit combo, is with a coat over the hoodie, that makes the look a little more elegant.
White sneakers
Basic white sneakers are a perennial favorite! Which model does not matter, they go with any outfit and are perfect for a basic look. These must-haves I have in my shoe closet and can only recommend them:
High quality blazer
Oversized blazers and power suits are a big fashion trend that already brought a big wind into the fashion world last year. However, blazers have long been one of the basic must-haves, because hardly any other piece can enhance an outfit like a blazer and we style it quietly even in everyday life.
Black leggings or pants
A dark pair of jeans or leggings you should also have in your closet. Many minimalist outfits we style with a black jeans, just like festive styles. Additionally you can extend your wardrobe with leather leggings.
Shirt or blouse
With shirts and blouses can also be styled great basic outfits. A great styling tip and very popular combination is with blouse / shirt under the sweater, but also casually open as a throw the fashion parts are super combinable. These shirts and blouses you should have in your closet:
Cardigan and coat
When it comes to cardigans and coats, there is a lot to choose from! For a perfect basic closet you should have a cropped cardigan, a long cardigan, as well as a simple coat with button row. With these basic must-haves you are well equipped and can expand as desired with other must-haves or fashion pieces.
My Basic Outfit with Must – Haves from my closet
My outfit has a few decisive advantages, on the one hand I was dressed super fast and did not have to rummage forever in the closet, on the other hand I hardly had to think about whether the parts fit together. Because Basic Must -Haves can be combined arbitrarily, because you think in advance, which parts you store and whether they can be combined. The idea borrows from the minimalism trend and adds a few styling tips to style the basic outfit perfectly.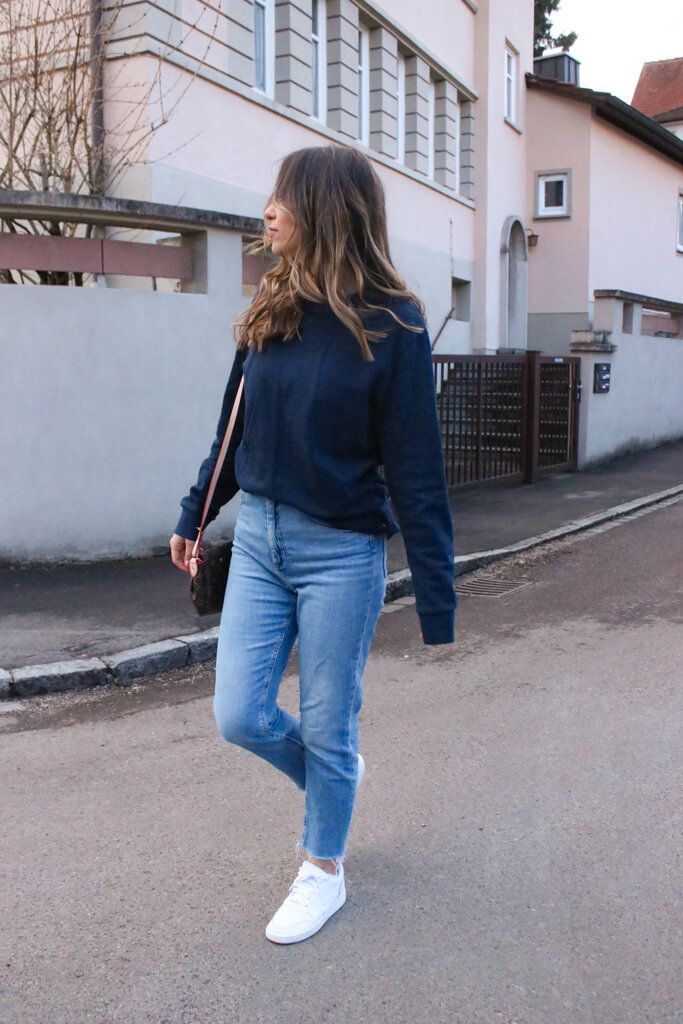 Bag – similar here or here
Styling tips for a basic outfit
After you have filled your closet with beautiful basic must-haves it goes to the styling. Even a basic outfit can look mega stylish, it just needs a few little styling tips. I have a few of the most important tips right here below, but to get even more inspiration, I would recommend you check out here What to wear today? Check out the answer here and definitely find your own style here!
Styling tip no. 1 varies how you wear the individual items of clothing. As mentioned above, knot the shirt or tuck the hoodie under the top. Roll up the pant leg, etc.
Styling tip no. 2 Accessories and handbags can enhance the outfit and you give your accessory a "moment to shine".
Styling tip no. 3 Pay attention to the color combination, all – one – color looks, so outfits where you only wear clothes in one color look very elegant and stylish. Otherwise make sure to combine colors that harmonize with each other. There will be a post about this soon.