Fall outfit with midi skirt and plaid blazer in brown I styling tips
In the morning you get up, stretch, make your coffee and walk comfortably to the closet and have to sigh at first. Nothing to wear! But then your new midi skirt catches your eye and you immediately have an outfit idea in mind. Finished dressed you feel really comfortable in your fall – look. But then comes the next question: Which jacket do I combine with the midi skirt? Especially in the fall it is not easy to find a matching jacket to the outfit with midi skirt. Therefore, today there are a few styling tips and my favorite choice for an autumn outfit, namely the midi skirt with blazer.
Which jacket goes with the midi skirt?
To the midi skirt fit as good as all jackets, but who wants to get the most out of his fall outfit, you can follow the styling tips below:
If you wear a short jacket with a midi skirt, it visually stretches the leg and makes you look taller, so you can cheat yourself a few centimeters taller. Lace shoes work wonders here as well!
A long coat to the midi skirt can make the autumn look relaxed and at the same time very chic. Here you can determine the style of the outfit depending on the occasion with the right choice of shoes. Sneakers make the look casual and suitable for everyday wear, boots / ankle boots are suitable for a formal occasion especially well in autumn.
For the first two styling tips, the material and shape of the midi skirt was not that important for the jacket choice. With a thick parka but I would tend to a tight fitting midi skirt. If you choose here, for example, an A-lines pliseerock this can apply in combination with the thick jacket. Add cool lace-up boots and the street style is perfect.
My fall outfit with checked brown blazer and midi skirt with lace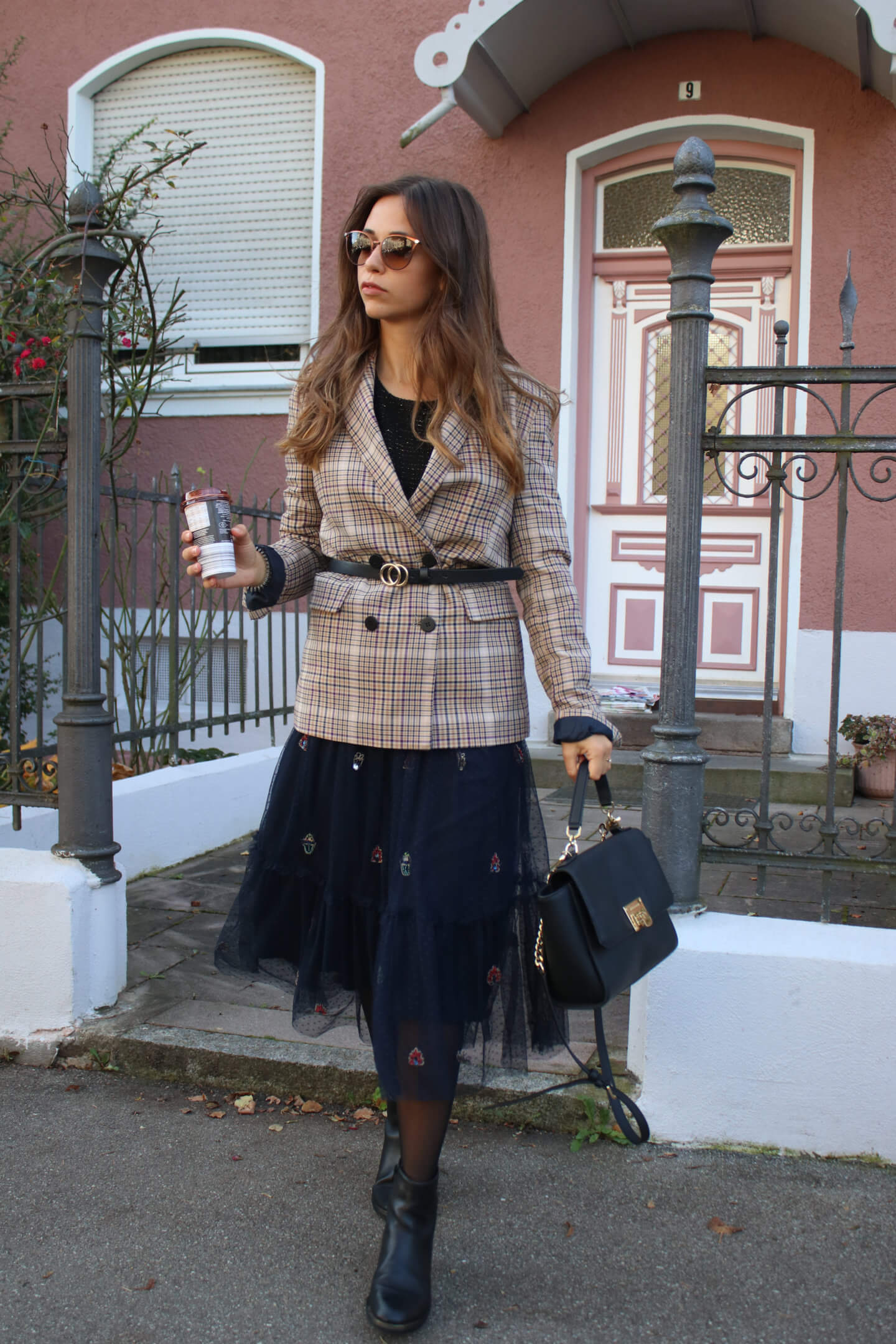 The last styling tip for an autumn outfit with midi skirt is in combination with a plaid brown blazer. The blazer can be worn open over the midi skirt or closed and with a belt. The belt emphasizes the waist and creates an hourglass figure. Since so many have already asked me where the blazer is from and it is unfortunately no longer available, I have picked out an alternative for you here. Currently very popular are midi skirts in combination with boots that end below the knees and are made of leather or imitation leather. So far I haven't found an inexpensive pair that I like so I went with these black ankle boots.
How do you like this fall outfit and do you want more styling tips for a particular outfit in the future?