4 Ways to Style a Turtleneck Sweater -Winter Cozy Sweater
The evenings are getting longer and longer, the fairy lights are burning, and in keeping with this wintry mood, today we're talking about a cuddly piece that's totally in at the moment – the turtleneck sweater. This is one of the classics in winter and has been indispensable for years. Meanwhile, the turtleneck sweater celebrates its revival and on Instagram you can see some bloggers who present their favorite knit sweaters with large turtlenecks.
Combine a cozy sweater with a big collar
The turtleneck looks especially nice when paired with a skirt and silk tights. In addition, the look with cozy fur boots looks super cute , very good for a date at the movies or skating. A bright washed out destroyed jeans with a light gray turtleneck – a casual everyday look. By the way, white sneakers would look great with this style.
Actually, I had an exact idea of today's look and wanted to get myself a gray turtleneck sweater. But by chance, while rummaging through my mom's closet, I found two great knit sweaters with a big turtleneck. However, I hadn't thought of the colors antique pink and white for the sweater, but I totally fell in love with these knit sweaters.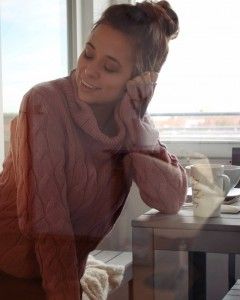 Turtleneck sweater style – winter favorite
First, let's look at the classic turtleneck sweaters. By folding in the turtleneck twice, you can style a sweater with a large collar. As mentioned above, this is the classic sweater and it invites you to a cozy evening.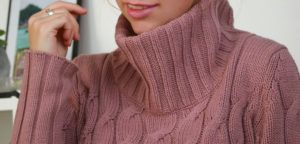 2. The elegant shoulder
In addition to a beautiful back, a beautiful shoulder can also delight the viewer. Super easy to pull the collar over the shoulder. Many of the sweaters can also be pulled over the shoulder on just one side- just try it out.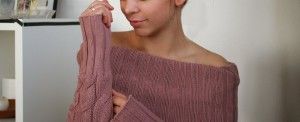 3. Collar Statement
If you like it a little flashier, you can make a standout statement with your turtleneck. For this, the fabric is folded only once and slightly set up. Also, with this look you can save e in accessory.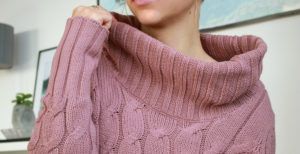 4. The waterfall collar
A varied alternative is the "waterfall collar" for those who prefer a loose, casual look. Turn a turtleneck into a knit sweater with a waterfall collar- a new kind of sweater in just one easy step.